Warning
: Use of undefined constant is_single - assumed 'is_single' (this will throw an Error in a future version of PHP) in
/home/johnboll/public_html/_radiozoom.net/wordpress/wp-content/plugins/radiozoom-podcast-rss-feed/radiozoom-podcast-rss-feed.php
on line
26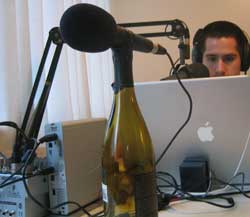 Humega special announcement that is so huge, I had to have Rebecca join me on this podcast. This is the first time I have ever had someone else on this podcast in this home studio here in Vancouver. In fact, I never did anything like this back in Iowa either. A Hockey Talk segment and the podcast meet up that we are going to tonight. If you ask me, she is such a cutie!
This is a repost as Blogger.com spontaneously deleted the original post due to issues on their part. Let's hope this one is more permanent.
Links and name drops:
– miss604.com – Rebecca's blog
– Vancouver Canucks
– Vancouver 2010
– The Daily Breakfast with Father Roderick
– uncleweed.net – Dave Olsen and his many podcasts
– Island Podcasting – Ted Riecken
– Vancouver Podcaster Meet Up
Music artists for this episode:
– Troubled Hubble – everything's going to be fine
– Matthew Good – near fantastica
– Nada Surf – Lá Pour Ça
– The Cloud Room – hey now now
Please send an email or audio comment to radiozoom [at] gmail [dot] com. Also, send your mp3's of music you'd like to see played on my podcast to the same address.
44:03 minutes
Subscribe:
© Copyright Creative Commons: Attribution-NonCommercial 4.0 International (CC BY-NC 4.0), RadioZoom (John Bollwitt)