Warning
: Use of undefined constant is_single - assumed 'is_single' (this will throw an Error in a future version of PHP) in
/home/johnboll/public_html/_radiozoom.net/wordpress/wp-content/plugins/radiozoom-podcast-rss-feed/radiozoom-podcast-rss-feed.php
on line
26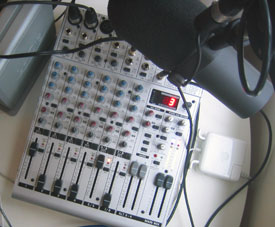 Rebounding from a hellish sinus infection, The RadioZoom Podcast is back. There are a slew of changes in this episode. First off, thanks so much to my brother's family for the Christmas gift of a mixer to help make my podcast sound much better. I have been able to break out the Shure SM7 from the closet and create quality episodes once again. Also, thanks to Vate for his permission to use some of his music as my new intro theme to my podcast. It was time to change things up a bit.
In today's episode, I chat a little about being sick, the new toy I have to learn and play with, little adventures in Vancouver, and a slight piece of hockey talk.
Links and name drops:
– Vate – New theme music creator
– Dicks & Janes Podcast
– Podsafe Music Network
Music artists for this episode:
– Halloween, Alaska – call it clear
– Paula Toledo – how long
– The GoStation – c'mon
– Ester Drang – come back alive
Please send an email or audio comment to radiozoom [at] gmail [dot] com. Also, send your mp3's of music you'd like to see played on my podcast to the same address.
44:13 minutes
Subscribe:
© Copyright Creative Commons: Attribution-NonCommercial 4.0 International (CC BY-NC 4.0), RadioZoom (John Bollwitt)