Happy New Year! Running straight into 2006, I hope you can handle this episode of RadioZoom. In today's episode, I talk a little about my new years celebration in Vancouver, being sick with the flu, some hockey discussion, email feedback about Canadian beer, and the music you've come to expect from me.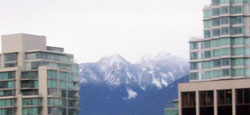 I'm still stuck with this awful headset, but not for much longer. I made some changes midway through the podcast, so you can notice a difference in my voice as it goes on. I already recorded the whole episode, so I'm putting it out anyway. I have a Christmas present coming from my brother in the next few days, so watch for the quality of my podcasts to get much better.
There's new snow on the mountains! I said that I would post this picture in the show notes, so here it is. This is good news for the local skiers, which I'd try to be one of if I had health insurance.
Links and name drops:
– Island Podcasting – Ted Riecken
– Vancouver Canucks
– Yahoo! Sports – Canucks News
– Vancouver Giants
– World Junior Hockey Championships
Music artists for this episode:
– The Zambonis – hockey monkey
– Diamond Mines – another
– Mates of State – uber legitimate
– The Boy Least Likely To – i see spiders when i close my eyes
Please send an email or audio comment to radiozoom [at] gmail [dot] com. Also, send your mp3's of music you'd like to see played on my podcast to the same address.
40:37 minutes
Subscribe:
© Copyright Creative Commons: Attribution-NonCommercial 4.0 International (CC BY-NC 4.0), RadioZoom (John Bollwitt)